"MacKenzie" from StíJames Kennel, whelped Jan 15th, 2004, has arrived home safe and sound in Australia.
She is a lovely Silver Buff who has a wonderful pedigree to go along with her.
Due to our immigration laws we are unable to import direct from Brazil, so MacKenzie will spend 6 months in Malaysia with my friend Ricky from Ric-Joís Kennels. Here she will be shown to obtain her Malaysian Championship.
I wish to thank Tais from StíJames for giving me the opportunity to bring this lovely girl to Australia. Many thanks to Ricky for his offer to look after and show MacKenzie in Malaysia for me.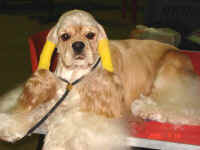 Please come back often for up to date photos of MacKenzie. Last updated 25th May, 04